Anyone who knows me, knows I have a fascination with weather and an obsession with extremes. So it should come as no surprise that I trekked up to Minnesota to experience what the northland had to offer. I left work early on Friday and was on the road by 4:00. After an unscheduled stop to talk with a police officer just south of Eau Claire, WI, I was back on my way and arrived in Duluth around 12:30 AM. I had stopped for gas in Portage, WI and the temperature was 1°F and by the time I got to Duluth it had dropped to -15°F.
After spending Saturday in the Twin Cities area, Steve, Amy and I headed back to Duluth. Steve and I got up after just a couple hours and headed down to the shores of Lake Superior to see the sunrise to experience the coldest time of the day.The sunrise was amazing… Most of the lake was still ice-free, so the water was at least 32°F, which was more than 50°F warmer than the air above it. This dramatic difference creates a fog that looks like the waters are steaming, about ready to boil.
I had my camera and was excited to capture this developing scene. I got a handful of cool shots, then realized that a shot with the sun shining behind the lighthouse would be the best. I didn't bring a tripod, but a lady was "Minnesota nice" and offered to let me use hers. I had to take my quick-release foot off my camera, then put the foot from her tripod on. Fingers don't work very well after a couple of minutes of exposure at -20°F. I got my shots, then had to have Steve take her quick release mount off my camera, because I couldn't feel my fingers.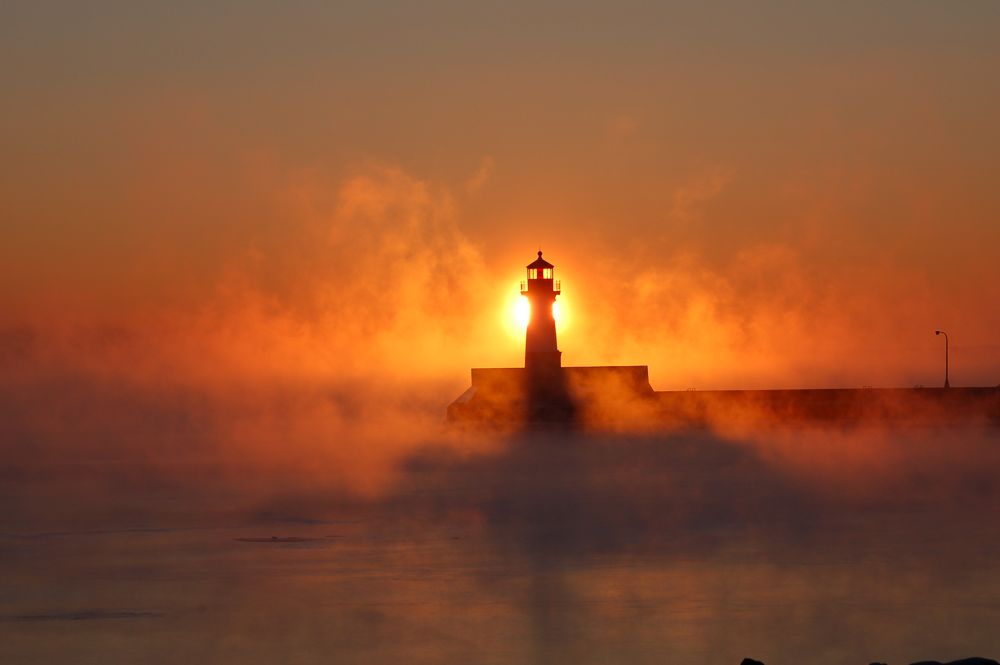 Sunday afternoon we headed to Lester river and back down by the lake. The river had a waterfall which was frozen, but the snow had covered up most of the ice, so it wasn't going to make much of a picture. After some photo ops with a dead duck, we headed to the beach and had a blast breaking ice.