I've been running Mac OS X Leopard for a few days now and I've run into a few quirks/bugs.
Quicklook previews with inconsistent locations
I've haven't quite sorted out where Quicklook stores its prefs, but I've had Quicklook throw its little window up in unexpected places. I can't seem to make it "stick" where I want it to. Anything that I "quicklook" from the Desktop gets shown on my secondary monitor, while anything I "quicklook" from elsewhere shows up on the primary. The locations also seem to be different among other applications (location for Mail is different from the Finder).
X11 doesn't play nice with multiple monitors.
If you try to move an X11 window to another monitor, it will stop moving when your cursor reaches the edge of the screen. You can force it to move a window to another screen with the Spaces window mover, but you lose control over the window at that point. The solution I found online is bascially to revert to the X11.app that came with Tiger.
Spotlight results are more difficult to navigate
The Spotlight menu is pretty much unchanged, but if you select show all then you see that the organizational tools in the spotlight window are gone. I hope that I'll discover that my machine is just screwy, but I haven't done any tweaking to this point, so I don't know how it could have gotten fouled up. Below are example of what I'm talking about. Tiger lets you do two level sorting and restrict results by date, while Leopard regresses to more basic sorting.


Tiger Spotlight Menu
Tiger Spotlight Window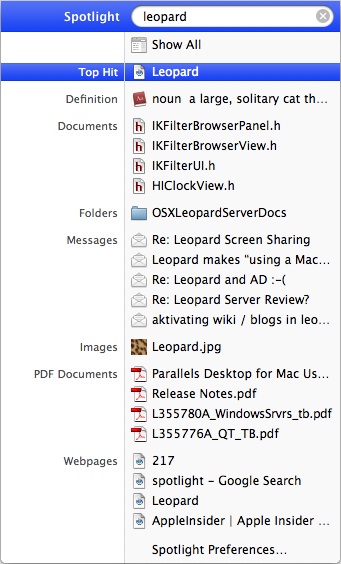 Leopard Spotlight Menu
Leopard Spotlight Window